Visible LED Emitters
Marktech's manufactured line of metal cans highlight our precise centering capabilities within each package which is a key component to critical illumination, machine vision, and scanning applications. Marktech can also customize our emitters to your specific needs including wavelengths and power output.
Our Visible Plastic Emitters differ from standard LEDs in the way they are packaged to optimize mechanical and optical alignment. Our emitters are measured for power output in watts and peak wavelength as opposed to candela and dominant wavelength for standard LEDs. These devices are optimized for operation with photo diodes.
No matter your application, Marktech's experienced engineers can help you select the emission components to meet your needs. And in addition to the numerous packages listed here, Marktech can custom design single or multi-chip packages or modules and manufacture them within our facilities.
Typical industries served:
Manufacturing, banking, security, medical
Common applications:
Machine vision, illumination and displays, currency validation, bar code readers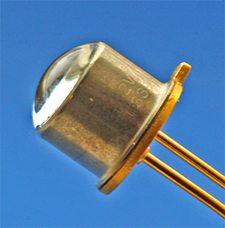 Find something you were looking for? Get a free no-obligation quote today.
Click column headers to sort, click the same column again to change sort direction
Product
Photo
Peak Wavelength
Angle
Power
Bandwidth
Forward Voltage
Conditions IF
Overall Size (mm)
Buy Now
Specs
MTE4600P-C
450
10
3.3
20
2.8
50
TO-18 Metal Can Domed Lens (2 pin)
Digikey
Mouser

MTE4600P-WRC-25.4
460
5
9.0
20
3.3
20
TO-18 Metal Can Domed Lens (2 pin)
Price Quote
MTE4600NK2-25.4
460
5
8
20
3.3
20
TO-46 Metal Can Domed Lens (2 pin)
Digikey
Mouser

MTE4047N2-UB
470
80
16
35
3
20
5mm Plastic Flat Lens (2 pin)
Digikey
Mouser

MTE4047N-UB
470
12
3
35
3.5
20
TO-18 Metal Can Domed Lens (2 pin)
Digikey
Mouser

MTE4047C5-UB
470
40
16
20
3
20
3mm Plastic Round Lens (2 pin)
Digikey
Mouser

MTE4047NK2-UB
474
10
3.5
35
3
20
TO-46 Metal Can Domed Lens (2 pin)
Digikey
Mouser

MTE4047W-UB
476
30
4
35
3
20
TO-18 Metal Can Flat Lens (2 pin)
Digikey
Mouser

MT5505-BG-30
507
30
See Spec
30
3.2
30
5mm Plastic Round (2 pin)
Digikey

MT5505-BG-15
507
15
See Spec
30
3.2
20
5mm Plastic Round (2 pin)
Digikey

MTE6052PT-UBG
520
6
0.6
35
3.5
20mA
Pigtail Metal Can Domed Lens (1 pin)
Digikey
Mouser

MTE5052M3A-UBG
525
160
1.5
45
3.5
20
3mm Ceramic Domed Lens (2 pin)
Digikey
Mouser

MTE5052N-UBG
525
12
0.9
45
3.5
20
TO-18 Metal Can Domed Lens (2 pin)
Digikey
Mouser

MTE7052N2-UBG
525
40
5.0
35
3.5
20
5mm Plastic Flat Lens (2 pin)
Price Quote
MTE7052M3C-UG
525
3
5.0
35
3.0
20
3mm Ceramic Domed Lens (2 pin)
Price Quote
MTE7052M3A-UG
525
70
5.0
35
3.5
20
3mm Ceramic Domed Lens (2 pin)
Price Quote
MTE5052W-UBG
525
40
0.9
45
3.5
20
TO-18 Metal Can Flat Lens (2 pin)
Digikey
Mouser

MTE2056W-UYG
560
40
0.15
11
2.3
20
TO-18 Metal Can Flat Lens (2 pin)
Digikey

MTE2056M3A-UYG
560
160
0.25
11
2.3
20
3mm Ceramic Domed Lens (2 pin)
Digikey

MTE2056N-UYG
560
12
0.15
11
2.3
20
TO-18 Metal Can Domed Lens (2 pin)
Digikey
Mouser

MTE2057M3A-UYG
570
160
0.14
25
2.1
20
3mm Ceramic Domed Lens (2 pin)
Digikey
Mouser

MTE5057M3A-UYG
570
160
0.5
11
2.3
20
3mm Ceramic Domed Lens (2 pin)
Digikey
Mouser

MTE5057N-UYG
570
12
0.3
11
2.3
20
TO-18 Metal Can Domed Lens (2 pin)
Digikey
Mouser

MTE5057W-UYG
570
40
0.3
11
2.3
20
TO-18 Metal Can Flat Lens (2 pin)
Digikey

MTE5900N-UY
590
12
0.5
15
2.1
20
TO-18 Metal Can Domed Lens (2 pin)
Digikey
Mouser

MTE5900M3A-UY
590
160
0.9
15
2.1
20
3mm Ceramic Domed Lens (2 pin)
Digikey
Mouser

MTE5900W-UY
590
40
0.5
15
2.1
20
TO-18 Metal Can Flat Lens (2 pin)
Digikey

MTE4061M3A-UO
610
160
1.7
17
2
20
3mm Ceramic Domed Lens (2 pin)
Digikey

MTE4061N-UO
610
12
1
17
2
20
TO-18 Metal Can Domed Lens (2 pin)
Digikey
Mouser

MTE4061W-UO
610
40
1
17
2
20
TO-18 Metal Can Flat Lens (2 pin)
Digikey

MTE3062NK2-UO
620
5
4.0
15
2.1
20
TO-46 Metal Can Domed (2 pin)
Digikey
Mouser

MTE3062SL-WRC
620
9
1.25
15
2.1
20
TO-46 Focused Ball Lens (2 pin)
Digikey
Mouser

MTE3061N-UO
620
14
14
20
2.2
20
TO-18 Metal Can Domed Lens (2 pin)
Digikey

MTE3062N-UO
620
9
5.25
15
2.1
20
TO-18 Metal Can Domed (2 pin)
Digikey
Mouser

MTE3061NK1-UO
620
10
2.3
20
2.2
20
TO-46 Metal Can Domed Lens (2 pin)
Digikey

MTE3062NK1-UO
620
5
3.25
15
2.1
20
TO-46 Metal Can Domed (2 pin)
Digikey
Mouser

MTE2062NK1-UR
630
10
2.8
20
2.2
20
TO-46 Metal Can Domed Lens (2 pin)
Digikey
Mouser

MTE2062N-UR
630
14
14
20
2.2
20
TO-18 Metal Can Domed Lens (2 pin)
Digikey
Mouser

MTE6163M-UHR
630
55
27.5
19
2.2
50
TO-42 Metal Can Domed (2 pin)
Digikey

MTE2162N-UR
630
7
4.8
20
2.6
20
TO-18 Metal Can Domed Lens (2 pin)
Price Quote
MTE7063NK2-UR
630
5
4
15
2.2
20
TO-46 Metal Can Domed Lens (2 pin)
Digikey
Mouser

MTE2162NK1-UR
630
5
3.0
20
2.6
20
TO-46 Metal Can Domed (2 pin)
Price Quote
MTE1303B-UHR-A
632
25
8000mcd
20
2.5
20
3mm Plastic Round Lens (2 pin)
Price Quote
MTE5063W-UR
635
30
3.0
25
2.6
20
TO-46 Metal Can Flat (2 pin)
Digikey

MTE4064M3A-UR
640
160
4
18
2
20
3mm Ceramic Domed Lens (2 pin)
Digikey

MTE5063C5-UR
640
36
10
20
2
20
3mm Plastic Round Lens (2 pin)
Digikey

MTE6063C2-UR
640
40
7.0
20
2.5
20
3mm Plastic Flat Lens (2 pin)
Digikey

MTE4064N-UR
640
12
3
18
2
20
TO-18 Metal Can Domed Lens (2 pin)
Digikey

MTE4064W-UR
640
40
3
18
2
20
TO-18 Metal Can Flat Lens (2 pin)
Digikey

MTE7063C2-UR
640
100
7
15
2
20
3mm Plastic Flat Lens (2 pin)
Digikey
Mouser

MTE4064PT-UR
640
10
1
20
2
20
Pigtail Metal Can Domed Lens (1 pin)
Digikey
Mouser

MTE4064NK2-UR
650
8
1.5
20
2
20
TO-46 Metal Can Domed Lens (2 pin)
Digikey
Mouser

MTE5066M3A-UR
660
160
4.5
25
2.2
20
3mm Ceramic Domed Lens (2 pin)
Digikey
Mouser

MTE6066C2-UR
660
80
4.5
25
1.8
20
3mm Plastic Flat Lens (2 pin)
Digikey
Mouser

MTE6066D3-UR
660
140
4
25
1.8
20
3mm Plastic Flat Lens (2 pin)
Digikey
Mouser

MT7065A-UR
660
28
5.5
25
1.8
20
3mm Plastic Round Lens (2 pin)
Price Quote
MTE5066C-UR
660
36
7
25
1.8
20
3mm Plastic Round Lens (2 pin)
Digikey
Mouser

MTE5066CJ-UR
660
36
7
25
1.8
20
3mm Plastic Round Lens (2 pin)
Digikey
Mouser

MTE6066S1-UR
660
24
5
25
1.8
20
5mm Plastic Round Lens (2 pin)
Digikey
Mouser

MTE5066S1J-UR
660
24
6.5
25
1.8
20
5mm Plastic Round Lens (2 pin)
Digikey
Mouser

MTE5066W-UR
660
40
3
25
1.8
20
TO-18 Metal Can Flat Lens (2 pin)
Digikey
Mouser

MTE5066WS-UR
660
90
7.5
25
1.8
20
TO-18 Metal Can Flat Lens (2 pin)
Digikey
Mouser

MTE5066WSC-UR
660
80
5.5
25
1.8
20
TO-18 Metal Can Flat Lens (2 pin)
Digikey
Mouser

MTE6066N5-UR
660
14
5
25
1.8
20
5mm Plastic Round Lens (2 pin)
Digikey
Mouser

MTE6066N3-UR
660
110
5
25
1.8
20
5mm Plastic Flat Lens (2 pin)
Digikey
Mouser

MTE5066NK2-UR
660
8
3
25
1.8
20
TO-46 Metal Can Domed Lens (2 pin)
Digikey
Mouser

MT7303A-UR-A
660
35
1.9
20mA
3mm Plastic Round Lens (2 pin)
Digikey
Mouser

MTE6066N1-UR
660
24
5
25
1.8
20
5mm Plastic Round Lens (2 pin)
Digikey
Mouser

MTE5066N-UR
660
12
3
25
2.2
20
TO-18 Metal Can Domed Lens (2 pin)
Digikey
Mouser

MTE5066N5J-UR
660
14
6.5
25
1.8
20
5mm Plastic Round Lens (2 pin)
Digikey
Mouser

MT7315B-UR-A
660
20
1.9
20mA
5mm Plastic Round Lens (2 pin)
Digikey
Mouser

MTE2066N3-UR
660
80
8
15
2.3
20
5mm Plastic Flat Lens (2 pin)
Digikey
Mouser

MTE6066C-UR
660
40
5
25
1.8
20
3mm Plastic Round Lens (2 pin)
Digikey
Mouser

MTE6066M2-UR
660
180
5
25
1.8
20
TO-46 Low Profile Metal Can Domed Lens (2 pin)
Digikey

MT7403A-UR-A
660
35
1.9
20mA
3mm Plastic Round Lens (2 pin)
Digikey
Mouser

MTE6800N2-UR
680
70
5.5
30
1.8
20
5mm Plastic Flat Lens (2 pin)
Digikey
Mouser

MTE7000N2-R
700
70
2
20
1.7
20
5mm Plastic Flat Lens (2 pin)
Price Quote
MTE5077T-WRC
770
45
18
35
2
500
TO-5 Metal Can Flat Lens (2 pin)
Digikey
Mouser