About Marktech optoelectronics
Founded in 1985,    the privately held, Marktech Optoelectronics is a well-established world-class provider of detector and emitter engineering, design, manufacturing, packaging, burn-in testing, and sorting with production facilities in the USA and Japan. Marktech's founding members leveraged their deep knowledge of industrial markets and the technical needs of design engineers to rapidly grow and expand into many industries requiring advanced photonics devices.
Today, Marktech Optoelectronics is one of the world's leading manufacturers of UV, visible, near-infrared (NIR), and short-wavelength infrared (SWIR) emitters and photodiode detectors. The company also engineers and manufactures materials such as silicon photodetector wafers, chips, and InP epiwafers.
In the infrared wavelength ranges, Marktech is a vertically integrated manufacturer growing epitaxy InP wafers, fabricating InGaAs detector and emitter chips, packaging chips, and even producing completed assemblies for some OEM customers. Marktech has leading-edge packaging capabilities with the ability to package die in molded plastic through-hole, SMD, chip-scale, TO can, chip on board (COB), and their proprietary seam-welded hermetic ATLAS package. Marktech's advanced packaging capabilities can produce multiple die components including designs with multi-wavelength emitters, multiple detectors for broadband detection, and emitter-detector combinations.
Marktech also designs and produces silicon photodiode detectors, avalanche photodiodes (APDs), phototransistors, and photodiode arrays (PDAs) in Marktech's silicon photodiode photodetectors are MADE in the USA in their Simi Valley, CA manufacturing plant.  Marktech's fast, high sensitivity silicon photodetectors are perfect for a wide range of sensing applications including colorimeters, currency validation, industrial sensing (proximity, edge detection, light barriers, encoders), bar code readers, fast receivers, photometers, optical test equipment, smoke detectors, optical switches, refractometers, fluorometers, and NIR spectrometers.
Marktech has successfully built and sustained strategic alliances with some of the industry's leading distributors (Digi-Key and Mouser) and manufacturers of optoelectronics components and assemblies. Marktech has highly valued long-term customer relationships with leading OEMs as well as university, government, and research laboratories all over the world.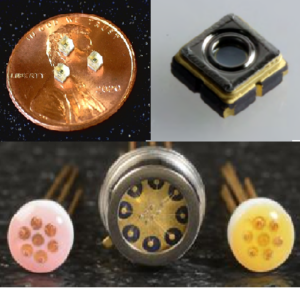 What sets Marktech Optoelectronics apart from other leading manufacturers is our willingness and ability to tackle leading-edge projects from startups, small manufacturers, and large innovative OEMs – even when projects require a high degree of customization, high reliability, or space-qualified packaging, advanced sorting, and validation or quality assurance testing.  Marktech can deliver prototype, short-run, and production quantities of standard as well as components designed and made to OEM specifications.
With founding team members who hailed from the optoelectronics division of National Semiconductor, Marktech's business model has always been predicated on the assumption that LEDs and other optoelectronic devices were intrinsically different from silicon microelectronic components. When a customer designs a component or integrated circuit (IC), they are assured that they can purchase from multiple sources and receive a product that meets all JEDEC specifications.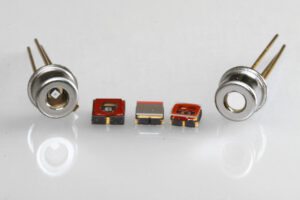 Optoelectronics, on the other hand, do not conform to such direct secondary sources. An LED, IR emitter, detectors, or display can have different wavelengths, bandwidths, sensitivity ranges, power outputs, active areas, forward voltages, dark currents, and other varying characteristics. Opto-electrical components can also react differently when exposed to harsh environments. The optoelectronic packaging of LED emitters and detectors can have an enormous impact on the performance of photonic devices. The need to account for these environment, packaging, and application nuances is among several reasons why Marktech offers several customer-focused design, R&D, and test services that are not generally offered by other optoelectronics manufacturers and distributors.
From its very earliest days, Marktech has worked with some of the industry's leading test equipment manufacturers to focus on optical characteristics such as wavelength sorting and power output binning. Today, our Latham, New York-based corporate headquarters and R&D center is home to a cohesive, talented team of engineers and test technicians, all of whom operate under the direction of our highly experienced CTO.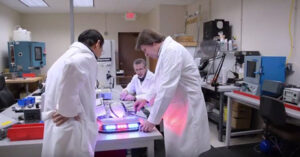 For Marktech customers, the vast experience of our engineering team means that we have the necessary full in-house capabilities to perform complete electrical and optical characteristics testing, as well as end-to-end examinations of all optical components from die level to finished product designs.
This same unique design, engineering, manufacturing and testing expertise is one of the reasons that Marktech was appointed as the Exclusive Value-Added Distributor for Toshiba America in the early 1990s.
With 35 years of field-demonstrated R&D expertise in the optoelectronics industry, our engineers also have all of the required know-how to create custom LED and detector components and assemblies that meet specific requirements, in quantities from prototype to OEM volumes, with highly competitive lead times. Custom and hybrid designs may be typically produced in as few as 6-8 weeks from point of customer prototype approval.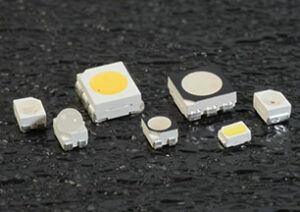 Today, Marktech Optoelectronics is an authorized Cree Solution Provider for high brightness LEDs and materials. Marktech is also a Value Added Distributor of SETI UV LED products as well as the exclusive global distributor of SETi 255nm to 340nm UV LED in TO metal cans.. We also manufacture our own lines of standard and custom optoelectronics components and assemblies, including UV, visible (VIS), near-infrared (NIR), and short-wave infrared (SWIR) emitters, detectors, InP epiwafers and other materials.
Marktech standard products are available via our longtime distribution partner, Digi-Key Electronics – typically with 24-hour shipment from stock.
Marktech has also begun distributing products through another global electronics distributor, Mouser Electronics.
We are also a proudly certified Veteran-Owned Small Business, the only known U.S. optoelectronics manufacturer to have such a distinction.
Learn more by visiting our Product Selection Guide.
What do you want to build? Contact Marktech today to get started!
Find something you were looking for? Get a free no-obligation quote today.
Have a question? Contact Us
The possibilities are limitless.  If you have a project requiring custom InGaAs or silicon photodiode detectors, custom LEDs, multi-chip packages of multi-wavelength LED emitters combined with optical detectors, or custom assemblies, then please contact us for help with selecting the correct devices for your design requirements.  We work on projects of any size and quantity, and while we have hundreds of standard products – customizations are our specialty.