RED DOT & RETICLE LEDs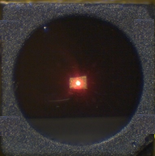 Wavelengths / Colors: Red (635nm, 650nm), Green (525nm, 570nm), and Custom
Micron Size Range: 10µm, 13 µm, 25 µm, 30um, 40µm, 50µm, 60um, 80um, 100um and 150um point sources
Shapes:  Round dots, crosshairs, dot & circle, and OEM custom shapes (Battery charge, etc.)
Alphanumerical Display Reticles: Addressable microscopic 7-segment displays and icons
Packaging: 2.1mm x 2.1 mm SMD, 1.6mm x 1.5mm SMD, Tape & Reel, and Custom PCB
Marktech Optoelectronics makes the sharpest aiming dots in the industry with unrivaled clarity and zero internal reflections. Our proprietary black encapsulation process has virtually eliminated any unwanted reflections resulting in ultra-clear patterns. In addition, our high luminosity, energy-efficient red dot LEDs provide low power consumption for extended battery life. Marktech provides 10µm red dot LEDs for long-range optics and 25, 50, and 80 micron diameter LEDs for short-range sights.
Marktech can design and manufacture a red dot and reticle in nearly any shape, size, or configuration, and this unique customization capability gives us an advantage in the industry. Marktech has combined crosshair segments, red dots, and 7-segment numeric or alphanumeric displays to produce special reticles for optical scope OEMs. We have designed illuminated reticles or monolithic LEDs to have the segment and dot independently driven in some custom OEM applications, which is unique in the industry.
Marktech can assemble the red dot or reticle die into various standard and custom packages as well as chip-on-board (COB), rigid PCB, and flexible circuit assemblies. We have incorporated our avalanche photodiode (APD) detectors in conjunction with red dot and display reticles for riflescopes, binoculars, LIDAR speed guns, and rangefinders with laser distance, speed, or range measurement capabilities.
While the recognized leader of premium red dot LEDs to the optical scopes industry, Marktech red dot and reticle LEDs find additional applications outside of riflescopes and gun sights. Our reticles can display information such as vitals (pulse, respiration, etc.) in eyepieces or oculars in medical optics, surgical microscopes, and endoscopes, allowing a doctor's eyes to focus on the patient. Laser rangefinders and LIDAR speed guns often utilize a red dot aiming sight to target an object for measurement. Telescopes have a narrow field of view and require finderscopes or red dot finders to locate specific stars or constellations. An increasingly popular application of red dot LEDs is on cameras. A red dot viewfinder on a camera is helpful in photography of fast-moving objects.
Our small 10 µm diameter red dot LEDs and visible point source LEDs can replace lasers in specific applications. They are also useful as emitters in encoder, position sensor, edge sensor, and light barrier applications. For sensing applications requiring higher power or infrared (IR) emission, Marktech has a series of point source LED emitters.
Typical Product Applications: Riflescopes, Reflex Sights, Red Dot Sights, Illuminated Reticle Scopes, LIDAR Speed Guns, Telescope Finderscopes, Night Vision (NV) Devices, Rangefinders & Range-finding Binoculars, Camera Viewfinders, Spot Lights, Ocular Displays in Microscopes and Medical Optics, Print Heads, Laser Light Source Alternative, Optical Encoders, Light Barriers, Displays in Smart Glasses, Goggles and AR/VR Devices, Short Haul Fiber Optic Communications, Optical Switches, Instrumentation, and other Optical Assemblies.
Typical Functions: Aiming and in-scope or in-ocular display of range, windspeed, ammo count, dimensional data, and other information.

Examples of Marktech's standard reticle and dot patterns – circle, crosshairs, and red dot.
Find something you were looking for? Get a free no-obligation quote today.
Click column headers to sort, click the same column again to change sort direction
| Product | Specs | Peak Wavelength | Overall Size (mm) | Angle | Aperture | Power | Buy Now | Photo |
| --- | --- | --- | --- | --- | --- | --- | --- | --- |
| MTRD-3000 | | 650 | 2.1x2.1 SMD Flat Lens (2pin) | 110 | 25 | 0.18 | Price Quote | |
| MTRD-6000 | | 650 | 2.1x2.1 SMD Flat Lens (2pin) | 110 | 50 | 0.29 | Price Quote | |
| MTRT-3650 | | 650 | 3.0mm x 4.0mm SMD | See Spec | 25 | 0.2 Reticle / 0.2 Circle / 0.15 Dot | Price Quote | |