RED DOT & RETICLE LEDs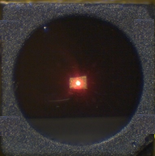 Wavelengths / Colors: Red (635nm, 650nm), Green (525nm, 570nm), and Custom
Micron Size Range: 10µm, 13 µm, 25 µm, 30um, 40µm, 50µm, 60um, 80um, 100um and 150um point sources
Shapes:  Round dots, crosshairs, dot & circle, and OEM custom shapes (Battery charge, etc.)
Alphanumerical Display Reticles: Addressable microscopic 7-segment displays and icons
Packaging: 2.1mm x 2.1 mm SMD, 1.6mm x 1.5mm SMD, Tape & Reel, and Custom PCB
Marktech Optoelectronics makes the sharpest aiming dots in the industry with unrivaled clarity and zero internal reflections. Our proprietary black encapsulation process has virtually eliminated any unwanted reflections resulting in ultra-clear patterns. In addition, our high luminosity, energy-efficient red dot LEDs provide low power consumption for extended battery life.
Marktech can custom design and manufacture a red dot and reticle in nearly any shape, size, or configuration. Marktech has combined crosshair segments, red dots, and 7-segment numeric or alphanumeric displays to produce special reticles for optical scope OEMs. We have produced illuminated reticles or monolithic LEDs to have the segment and dot independently driven in some custom OEM applications.
Marktech can assemble the red dot or reticle die into various standard and custom packages as well as chip-on-board (COB), rigid PCB, and flexible circuit assemblies.  For sensing applications requiring higher power or infrared (IR) emission, Marktech has a series of point source LED emitters.
Typical Product Applications: Riflescopes, Reflex Sights, Red Dot Sights, Illuminated Reticle Scopes, LIDAR Speed Guns, Telescope Finderscopes,  Rangefinders, Camera Viewfinders, Spot Lights, Microscopes and Medical Optics, Displays in Smart Glasses, Goggles and AR/VR Devices, and other Optical Assemblies.
Typical Functions: Aiming and in-scope or in-ocular display of range, windspeed, ammo count, dimensional data, and other information.

Examples of Marktech's standard reticle and dot patterns – circle, crosshairs, and red dot.
Find something you were looking for? Get a free no-obligation quote today.
ORDER BY partNumber ASC
Click column headers to sort, click the same column again to change sort direction
| Product | Specs | Peak Wavelength | Overall Size (mm) | Angle | Aperture | Power | Buy Now | Photo |
| --- | --- | --- | --- | --- | --- | --- | --- | --- |
| MTRD-3000 | | 650 | 2.1x2.1 SMD Flat Lens (2pin) | 110 | 25 | 0.18 | Price Quote | |
| MTRD-6000 | | 650 | 2.1x2.1 SMD Flat Lens (2pin) | 110 | 50 | 0.29 | Price Quote | |
| MTRT-3650 | | 650 | 3.0mm x 4.0mm SMD | See Spec | 25 | 0.2 Reticle / 0.2 Circle / 0.15 Dot | Price Quote | |