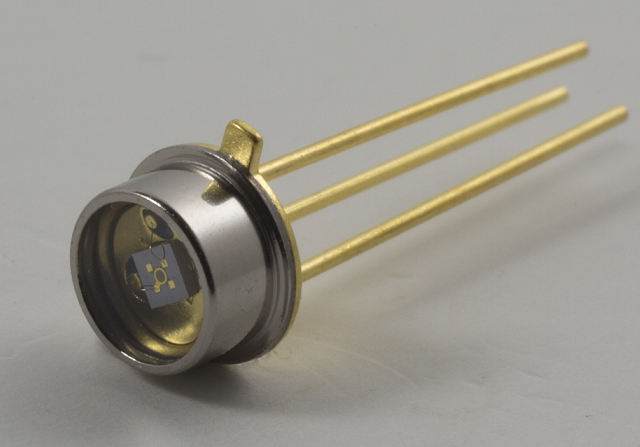 Supporting High-Speed Communications, Autonomous Vehicles,
Industrial Controls, LIDAR and Wearables
Latham, NY, USA –  Marktech Optoelectronics, Inc. (www.marktechopto.com)(Marktech), a privately-held, VOSB-certified leading designer and manufacturer of standard and custom optoelectronics components and assemblies, including UV, visible (VIS), near-infrared (NIR), and short-wave infrared (SWIR) emitters, detectors, InP epiwafers and other materials, today announced the global market introduction of the Model MTPD1346D-xx series, a family of InGaAs/InP broadband PIN photodiodes.
Marktech InGaAs/InP PIN photodiodes are designed to effectively convert broadband light into photocurrents within the VIS-SWIR range. In addition to their low noise, high sensitivity and high-speed response, they feature wide standard spectral ranges of 0.6 μm to 1.7 μm (1.7 μm material), low dark current, and high efficiency, typically 0.6A/W. Standard Model MTPD1346D-xx series broadband PIN photodiodes are offered in active area sizes from 0.1 mm to 3.0 mm. Each is packaged within a hermetically sealed, 3-pin TO-46 metal can with flat lens cap, and with choice of either thru-hole or surface mounting.
Small-to-medium-sized quantities of standard broadband PIN photodiodes are typically available with 24-hour shipment from stock via Marktech's longtime distribution partner, Digi-Key Electronics. In addition, the photodiodes may be seamlessly integrated, together with Marktech SWIR emitters, as a single, compact package. Such custom and hybrid designs may be produced in as few as 6-8 weeks from customer prototype approvals. Please consult Marktech's Latham, New York corporate headquarters and R&D center for assistance.
Marktech MTPD1346D-xx series InGaAs/InP broadband PIN photodiodes are designed to effectively support a diverse array of applications, particularly where high-speed performance, high data rates, low dark current, small capacitance, and smaller active area sizes are required.  Typical applications include aerospace, automation, autonomous vehicles, high-speed communications, industrial controls, LIDAR, medical, material and chemical analysis, security, and wearables, among others.
Founded in 1985, Marktech Optoelectronics has built a strong industry pedigree for R&D excellence. As a renowned optoelectronics engineering, design, manufacturing and test facility, Marktech's unique core competencies are rooted in its proven capabilities to produce custom LEDs, detector components and assemblies in virtually any-sized quantity. Each Marktech product is designed and manufactured to customer exacting standards and is available with some of the industry's most competitive lead times. The company's engineering team also has the necessary full in-house capabilities to perform complete electrical and optical characteristics testing, as well as end-to-end examinations of all optical components, from die level to finished product designs. Marktech is also a Cree Solution Provider for high-brightness LEDs and materials.
For more information about InGaAs/InP broadband PIN photodiodes, or other products from Marktech Optoelectronics, please click here.
PR Author/Editorial and Advertising Inquiries:
Molly Bakewell Chamberlin
President / Industry Subject Matter Expert
Embassy Global, LLC
Tel: +1.800.309.6150
[email protected]
www.embassyglobalpr.com