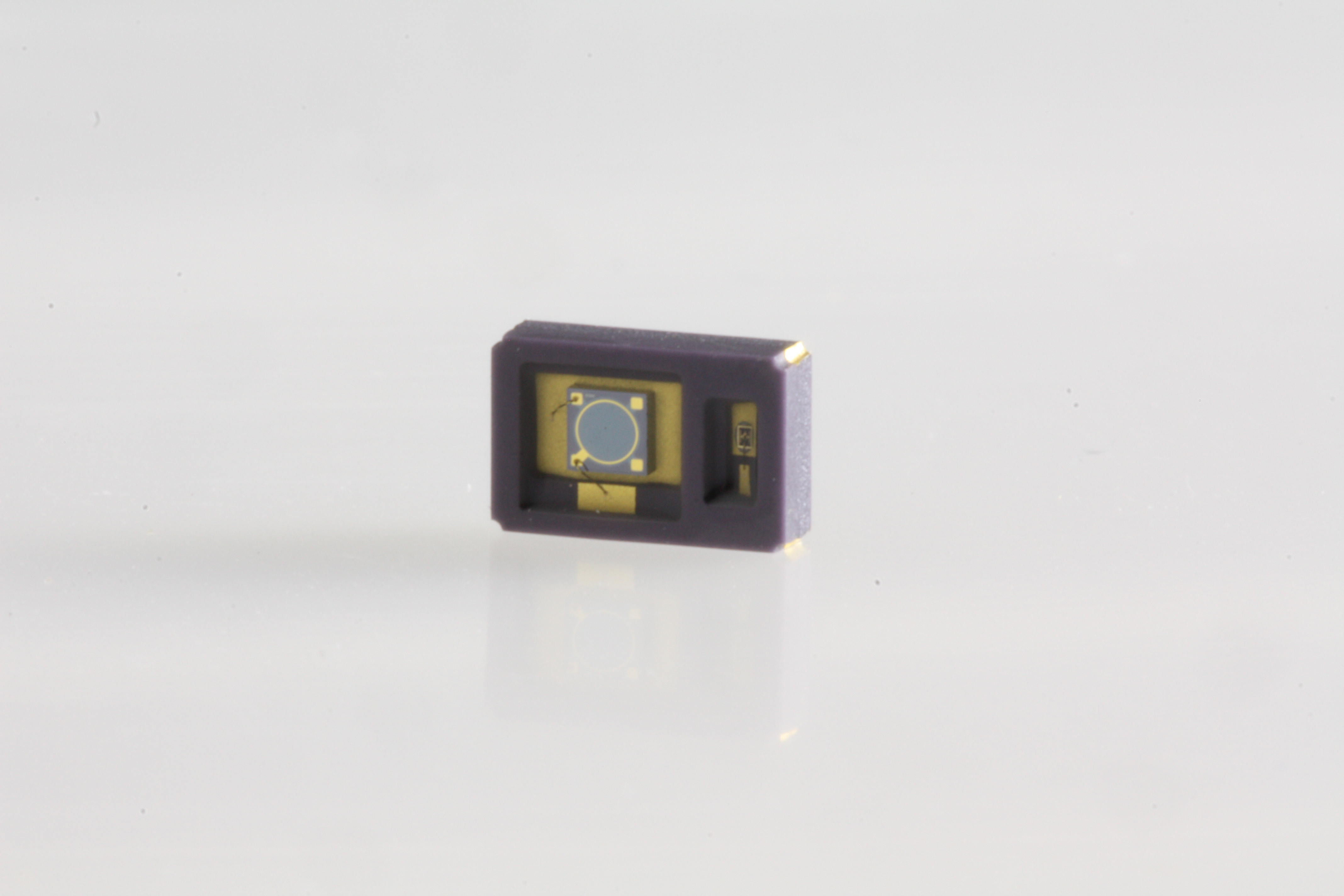 October 2, 2019 – Latham, NY, USA – Marktech Optoelectronics, Inc. (www.marktechopto.com)(Marktech), a privately-held, VOSB-certified, leading designer and manufacturer of standard and custom optoelectronics components and assemblies, including UV, visible, near-infrared, and short-wave infrared (SWIR) emitters, detectors, InP epiwafers, and other materials, today announced the recent expansion of its industry-exclusive surface mount (SMD) SWIR reflective sensor family.
The superior alignment and sensitivity of Marktech's surface mount SWIR reflective sensor offerings make them ideal for position sensing and detection applications, including card, barcode, edge sensing and money bill readers.
Marktech surface mount SWIR reflective sensors combine both a short wavelength infrared emitter and a high-sensitivity InGaAs photodiode. Emitted light from the Marktech sensor is reflected back to the detector side as an object enters the sensing area, with an optimal short detection distance of 0.5 to 1.5 mm. The series is offered in six standard models, each with its own unique peak emission wavelength from 1040 to 1625 nm. Each element is spectrally and mechanically matched and then seamlessly integrated within a single, compact, 4-pad SMD black molded housing. The black housings are designed to help reduce the risks of measurement uncertainty created by external ambient light effects. The series' overall footprint measures just 5.1 mm x 3.3 mm, facilitating its ease of installation within space constrained environments. Units are both REACH and RoHS compliant.
Small-to-medium sized quantities of standard surface mount SWIR reflective sensor models are typically available with 24-hour shipment from stock via Marktech's longtime distribution partner, Digi-Key Electronics. Sensor customization is also available upon request, in quantities ranging from prototypes to OEM volumes. Full production volumes are typically available within just 6-8 weeks from customer prototype approvals. Please consult Marktech's Latham, New York-based R&D center for technical assistance.
Founded in 1985, Marktech Optoelectronics has built a strong industry pedigree for R&D excellence. As a renowned optoelectronics engineering, design, manufacturing and test facility, Marktech's unique core competencies are rooted in its proven capabilities to produce custom LEDs, detector components and assemblies in virtually any-sized quantity. Each Marktech product is designed and manufactured to customer exacting standards and is available with some of the industry's most competitive lead times. The company's engineering team also has the necessary full in-house capabilities to perform complete electrical and optical characteristics testing, as well as end-to-end examinations of all optical components, from die level to finished product designs. In addition, Marktech is an authorized Solution Provider for Cree high-brightness LEDs and materials and is a member of AIM Photonics. For more information about surface mount SWIR reflective sensor offerings, or other products available from Marktech Optoelectronics, visit www.marktechopto.com.
Click here to view our standard SWIR reflective sensor offerings.
PR Author/Editorial and Advertising Inquiries:
Ms. Molly Bakewell Chamberlin
President / Optoelectronics Industry Subject Matter Expert
Embassy Global LLC
Tel: +1.800.309.6150
[email protected]